Wicker Structures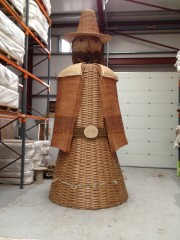 Wicker Sculptures and Figurines
We make from small to large and our ability to make sculptures and wicker figurines on a grand scale is something that will continually test us. If you have a project or idea that seems unusual or big, please do get in contact with us. We have a dedicated team whom design and handcraft all our large wicker structures and sculptures. We would be more than willing to provide a quotation and information regarding this service. We would usually provide detailed drawings and discuss concepts prior to construction.
Provided below is a list of projects that we can undertake.
Wicker Structures
Giant Wicker Figurines
Wicker Sculptures
Wicker Domes and Play Retreats
.